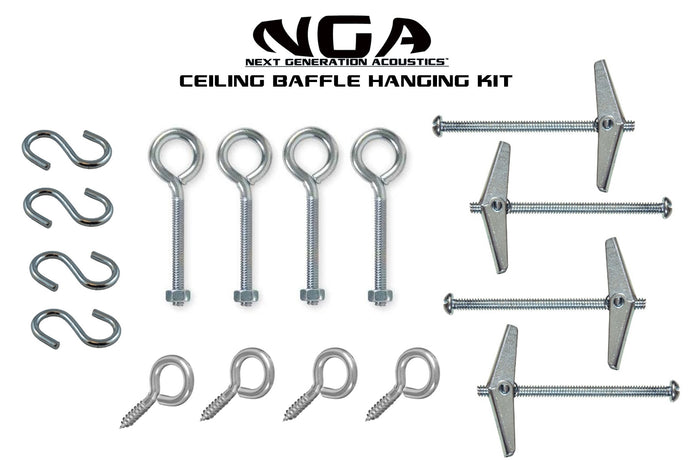 CEILING BAFFLE HANGING KIT
Next Generation Acoustics
Regular price $ 17.00 $ 10.99 Sale
Our standard ceiling baffle hanging kit includes everything you need to properly hang and secure a ceiling baffle or hanging acoustic panel. This kit is designed to make the installation of ceiling baffles simple, easy and effective. This kit works for virtually any ceiling type. When using this system you WILL NOT have to mark/enter studs. You WILL NOT need to enter your attic space to hang the ceiling panel.
This kit works for any size panel including/up to 60lbs. If your desired baffle is beyond this weight limit, simply install 2 kits to secure baffles up to 120lbs. 
Each kit is sufficient for (1) acoustic panel /ceiling baffle.
Kit includes:
4  toggle bolts  (4in x 1/4in) 
4  eye bolts  (4in x 1/4in)
4  heavy duty eye screws  (2.25in) 
4  "S" hook  (1.5in)
Tools required for installation of ceiling baffle:
Power Drill
Measuring Tape
Straight Edge/Level 
Ladder